Earn Money With
WehostAfrica Affiliate
Earn Money While Referring our products & Services
Our Affiliate Program
There are many people out there who are making millions of Naira from commissions by selling and promoting WehostAfrica hosting services It's easy to sell our high speed hosting to your audience! You earn up to ₦150,000 for every new customer you send our way through your affiliate link. Just tell your friends, family, website visitors and social media followers about WehostAfrica Hosting. Your earnings can pile up fast. We paid over ₦3,500,000 to our top affiliate last year. Yes you had me right, over Three Million five hundred thousand Naira.
Sell more. Earn more. You earn more for every sale based on the amount of sales you deliver each month.
How it Works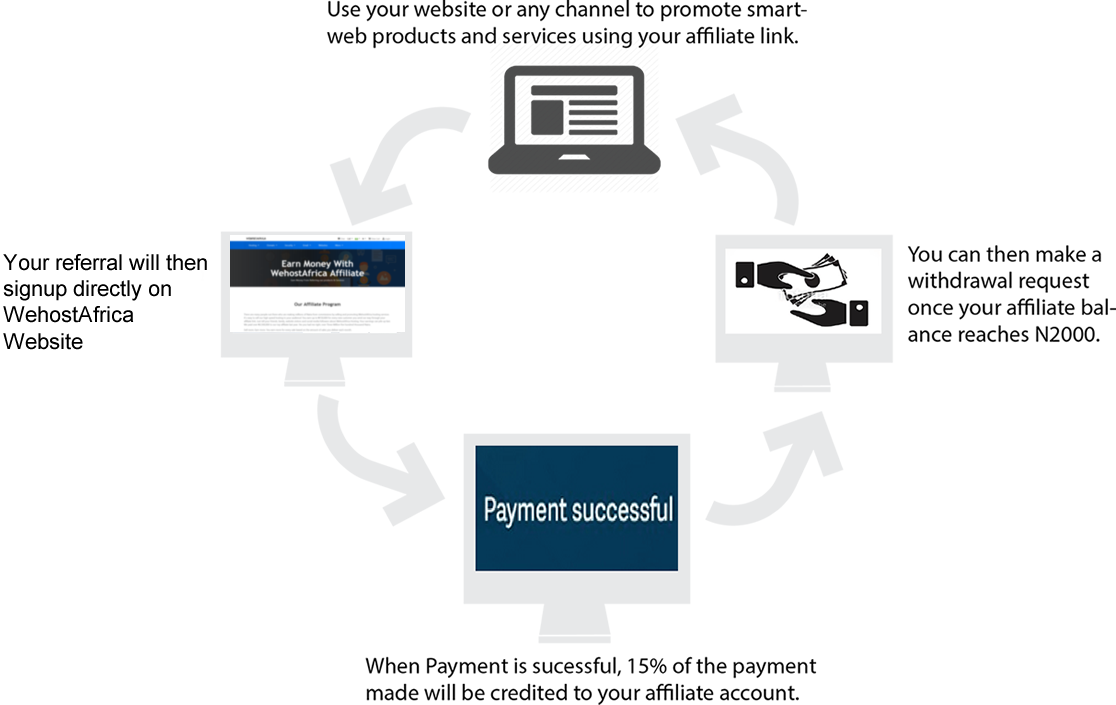 How Can I Start the Affiliate Program?
To sign up for our affiliate program, you can either Register here if you dont have account or login to your Client area if you are an existing Client. Once you login click on the Affiliate and activate your link upon doing that you will be credited with ₦500 for Joining us.
How do i Start referring Others to WehostAfrica?
We have a custom banner using html codes that will help you to advertise, you then add any of our banner to your Website or Blog, There is a unique referral link in the banner that will help you to track the Number of Visitors Referred and the signups. You can as well send your referral link to friend and family or colleagues via whatsapp, email, sms and social media. You can advertise by word of mouth to tell anyone about our product and services once you do that let us know if the person purchased we will add him/her under your affiliate so that you can track.
Do you have Higher Commissions for More Referrals!
Yes we do, if you can Drive a large number of sales or you think your site's traffic is worth more than ₦100,000/ Sale then Contact our Affiliate Manager We might be able to discuss special arrangement just for you.
Need help? We're always here for you.
Lets Talk
+234-08129088444
Live Chat with Us
On Social Media